So you are browsing through different property listing sites and you see a lot of properties with different features and square footage, from different locations. You might be asking yourself what to buy.

When buying a property, there is always a choice between a traditional house and lot or a condominium. While location is the most important thing to consider when buying a property, deciding on which property type is also necessary. Would you want a bigger space for you and your family or would you rather live in a more compact space in the middle of the city? The answer lies on your lifestyle needs and budget.
AMENITIES
A condominium is similar to an apartment. It is a private residential unit located in a shared building or complex and it is usually smaller in square footage than a house. A condo board or homeowners association (HOA) owns and maintains the exterior of the building and all the common areas like the swimming pool, clubhouse, fitness gym, and even parking areas. Different condo complexes or buildings have different amenities and features depending on their size and location.
Condos are very popular among first-time homebuyers, millennials, downsizers, and investors because of their state-of-the-art amenities and features which include granite counters, stainless appliances, an open floor plan, and modern common areas. Some of the condominium properties even house clubhouse, jogging trails, and recreation rooms that the condo residents can enjoy. Living in a condo lets you experience 24/7 security with gated complex and lobby staffed with security guards.
PRICE
Condominiums are typically less expensive than house and lot, but you have to pay attention to condo dues set by the HOA. A condo is usually less expensive than a house since it is much smaller in square footage and maintenance is typically cheaper because you are only responsible for the interior of your unit. You do not have to worry about landscaping, the roof or exterior walls because the condo board or HOA covers them.
MAINTENANCE
One of the fees you should take note of when buying a condo unit is the HOA fees. This is one area where the costs of a condo can really increase. You have to keep in mind that the fewer amenities the condo complex has, the lower the HOA fees should be. Remember that maintaining the amenities like fitness gym, clubhouse, parking garages, storage units as well as the security of the whole property cost money and these are covered by the HOA fees.
Meanwhile, homeowner's insurance typically cost less in a condo than in a standard house since you are just responsible for the interior of your own unit. The HOA often covers the insurance of the building exterior.
As to the cost of a house and lot, it is usually more expensive than a condo because they are bigger in size and when you own a house, it is obvious that you own the whole area, inside and out. Insurance is also more expensive for a house because you are insuring the whole house and the property it sits on. As to the maintenance and beautification of the house, you will also be responsible for those. Think about landscaping, maintaining gutters, and the roof. If you also own a house, you probably own a lot more property, which means higher property taxes too.
COMMUNITY
Before even making that decision to buy, it would be best for you to know and understand the advantages and disadvantages of buying a condo as compared to a house and lot.
Condos are smaller and part of a community while houses are in neighborhoods. In a condominium, you are going to be a lot closer to your neighbors when you share walls. You will also have more opportunities to interact with them since you have communal mail room, shared parking spaces, clubhouse, swimming pool area as well as meetings with the HOA or condo board.
This is why it is best to buy a unit in a condo property that is well-managed and with people that are like you. The good thing about condo living is that there are a lot of chances to make friends. However, there is a chance that you may not want to be with friends with these people.
People nowadays are keen to explore the idea of purchasing a condo unit over a house and lot because condos are usually located in city centers, within walking distance to restaurants, shopping centers, and other places of interest. Condos also have amenities like pools and fitness centers that you do not usually find in standard homes. This makes them a very attractive and popular choice for most people, especially the millennials who are after ultimate convenience and low-maintenance lifestyle.
However, the condos are usually smaller in size and outdoor space is limited because of the density of the community. In living in a condo, you cannot expect to have a private garden, a private driveway, or your own yard.
When it comes to repairs and maintenance, condo association fees usually cover the exterior, common areas, and other components of the building structure, so maintenance is limited to the interior of the condo unit.
However, when it comes to the disadvantages of buying a condo, one of the drawbacks is the additional monthly expense because of the above-mentioned condo dues. Condo dues are collected to be used in building maintenance and common areas. These fees can be high and they can increase when extra money is needed for maintenance of the property.
If the condo building is older, it could require more reserves to pay for the exterior maintenance which usually means higher fees and special assessments.
Meanwhile, for house and lot, the homeowner is completely responsible for the maintenance of the property, both exterior and interior. Although improvements will likely increase the home's resale value, they require an investment of time and money. Another disadvantage is that utility bills are generally higher because of the bigger space of the house as compared to a condo unit.
SECURITY
On the other hand, buying a house gives you the total control over the property to do whatever changes you want to make without the need to ask permission from others.
Aside from this, you can also have a lot of privacy in a house, depending on the neighborhood, the size of your property, and size of your house. However, this increased privacy could come at an increased cost because you have to pay for the luxury of owning those four walls of the house.
With a house and lot, you also get to enjoy your own indoor and outdoor space, which is best for families, children, and even pets. Owning a house also means having more storage space, more privacy, and more sense of ownership.
While many owners want the sense of community and strict security found in condos, others do not like all the rules and policies set by the condo association.
You have to read the condo rules and get familiar with the rules and regulations of the property. Some condo HOAs have rules even on what color your curtains should be. As a condo owner, having a good HOA who runs the property will make your condo life easier and can help increase the value of your property. Before you buy a condo unit, do your research. Make sure the units are mostly occupied by owners, check also the percentage of renters because if there are many renters, chances are, you will be living in a place where there are a lot of temporary occupants who do not really have similar concern when it comes to taking care of the common areas in the condo complex or building.
You may also encounter a HOA when you buy a house in a planned community but they are typically less authoritarian and they are just basically in charge of the common areas in the community like the playground and clubhouse amenities. The HOA fees for a housing development are usually cheaper except in very high-end villages.
If you are looking to invest in a condominium, Vista Residences, the condominium arm of the country's largest homebuilder, Vista Land & Lifescapes, Inc. offers ready for occupancy and preselling condominium projects in Manila and Quezon City that are strategically located within inner-city areas, in close proximity to developed business districts and prestigious universities.
Whether you are considering moving for work, for a condo space you can grow or simply for your second home in the city, Vista Residences has ready for occupancy condominium projects in Quezon City that you should consider moving and investing in. These condominium projects will surely let you enjoy the opportunity to create new beginnings in a conveniently new location.
Move-in ready condominium projects of Vista Residences include Pine Crest, The Symphony Towers, and Wil Tower which are located in Quezon City.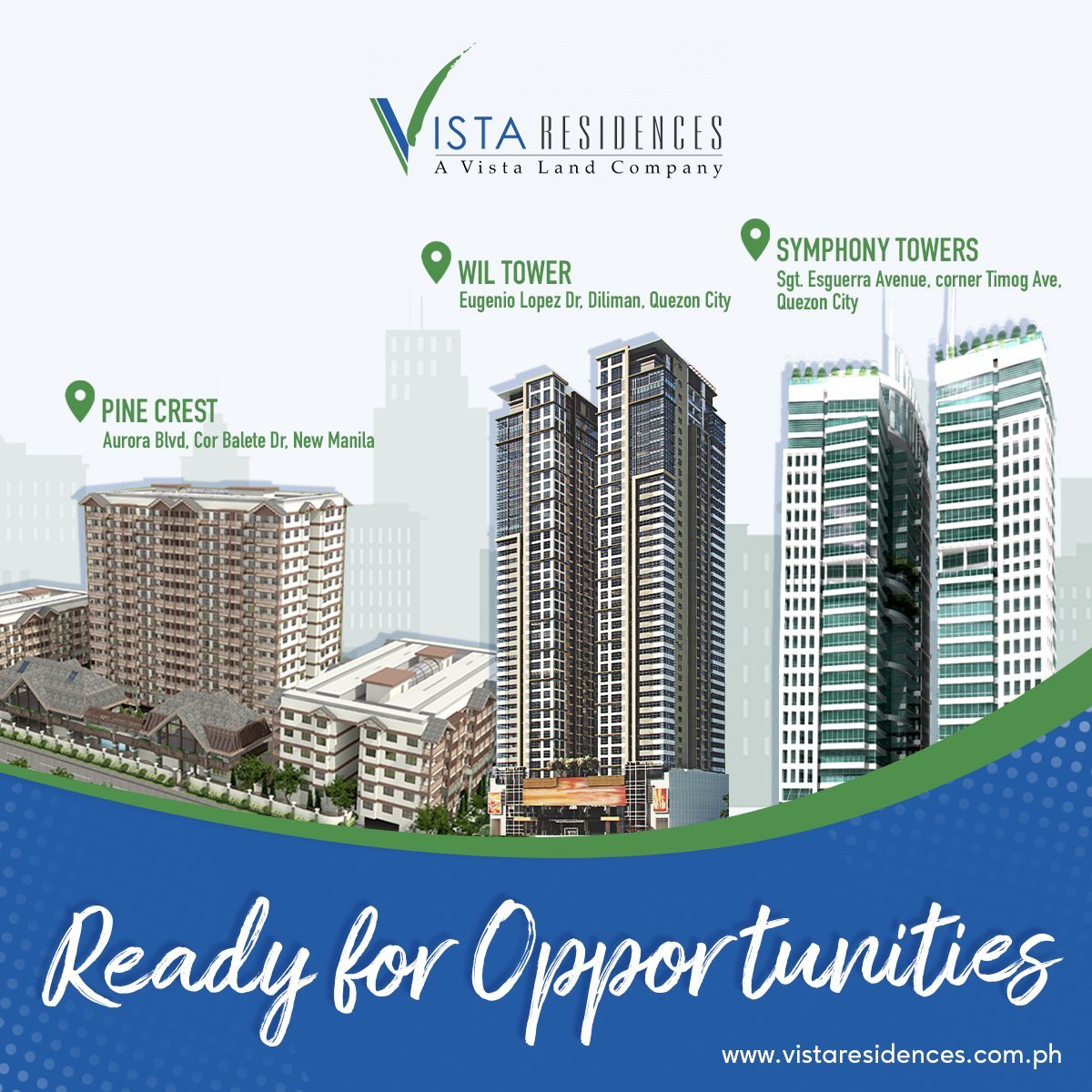 Pine Crest
Pine Crest is a condominium development that offers the luxury of living in a serene, green, and secure community while still having access to the comforts of the metro.
Pine Crest features three mid to low-rise towers in a Swiss-inspired enclave tucked in the serene neighborhood of New Manila. Towers 1 and 2 consist of 5-storeys while Tower 3 is a 15-story structure. Each of the towers is named after famous Swiss cities Geneva, Zurich and Lucerne.
The condo units in Pine Crest are fitted with a balcony, which offers a serene view of the verdant landscape surrounding the area. At Pine Crest, you can enjoy the fresh and crisp morning air with your cup of coffee or have a glass of wine, feeling the cool nighttime breeze as you wind down from your busy day.
Located along the corner of Aurora Boulevard and Balete Drive, the said condominium property sits right beside Robinsons Magnolia and is just a few minutes away from Greenhills Shopping Center, Ortigas Business Center, and Tomas Morato, where a whole range of lifestyle activities as well as a multitude of retail and dining establishments, prestigious schools, and premier medical facilities surround the community.
The Symphony Towers
Bringing a whole new groove and beat to city living is The Symphony Towers which is located along Sgt. Esguerra avenue corner Timog avenue in Quezon City.
The Symphony Towers is a two-tower mixed-use complex that offers exclusive residences as well as commercial and business establishments. Two floors in each tower are dedicated to offices while the remaining floors are allotted for residences complete with amenities and a roof deck that offers the best view of the city.
As it sits in the middle of Quezon City, The Symphony Towers is just a few minutes away from the country's largest TV networks such as GMA 7 and ABS-CBN, transport hubs such as GMA-Kamuning MRT station and some of the most prominent schools in the metro such as the University of the Philippines, Ateneo de Manila University, and Miriam College, among others.
Wil Tower
Located in the same city, just across ABS-CBN along Eugenio Lopez Drive, Diliman is Wil Tower, a 42-storey ready for occupancy condominium project of Vista Residences that offers an ideal urban sanctuary in the city.
Wil Tower is just a few minutes away from the MRT3 Quezon Avenue station and is in close proximity to several shopping and commercial centers such as SM City North EDSA and Trinoma.
There are also some prestigious schools located near the said property which include Ateneo de Manila University, University of the Philippines – Diliman, and Miriam College as well as hospitals like Capitol Medical Center of the Philippines, St. Luke's Medical Center, Heart Center of the Philippines, and Lung Center of the Philippines, among others.
Wil Tower offers well-thought out features and amenities as well as exclusive residential units that will surely make you feel like a celebrity. You can lounge in the pool, enjoy sauna, try al fresco dining, shop for amazing home décor at AllHome or simply hit the gym – all without leaving the comforts of your own condo unit.
For more information on Vista Residences, visit www.vistaresidences.com.ph, follow @VistaResidencesOfficial on Facebook, or call the Marketing Office at 0999 886 4262 / 0917 582 5167.