Whether you are planning a grand celebration or a relaxed night in, it is without a doubt that no occasion is complete without any drinks. To further enjoy the night with friends, family, and acquaintances, free-flowing drinks are always the companion to memorable moments, endless jokes, and good times. However, some bars, restaurants, and clubs may be better locations for everyone's get-togethers. Some people prefer renting out venues or resorts, while others prefer the comfort of their own homes. Meanwhile, company personnel might want to hold events in their offices.

With just a few taps on your screen or clicks on your computer, Boozy can deliver your desired drinks within sixty (60) to ninety (90) minutes within the metro. Known as the #1 online liquor store in the Philippines, Boozy is the one-stop shop for all of your alcohol needs. Perfect for Vista Residences' tenants living in ready-for-occupancy condos in Manila, Mandaluyong, Makati, Pasig, Quezon City, and Taguig. There is no need to endure the traffic and hassle of leaving the comfort of your home for a fun night. Say goodbye to long lines and delayed plans and hello to the convenience of Boozy.
With incredibly low prices and amazing deals, Boozy offers the ease of online shopping for all your liquor needs. Quick and easy checkout, cash on delivery, and credit card payment options add to the convenience of Boozy, all for an affordable price.
Vista Residences, the premier condominium arm of the Philippines' leading integrated property developer and largest homebuilder, Vista Land and Lifescapes Inc., proudly announces its collaboration with Boozy Philippines. Boozy is an online liquor delivery service that operates through its website, www.boozy.ph, or its app, available for download on the App Store and Google Play. Boozy conveniently delivers a wide selection of imported and craft beer, wine, and champagne and a large selection of spirits, including whisky, gin, rum, tequila, vodka, brandy, cognac, soju, and liquor to any address within Metro Manila.
Perfect for a chill catch-up night with friends or an at-home steak and wine date night with your special someone, Boozy has got you covered! Looking for a last-minute holiday gift for a dinner party or a housewarming present? Don't fear because, within an hour, Boozy will deliver your wines and liquors to your doorstep.
Vista Residences presents an even more exciting promo available for all its residents, employees, sellers, and business partners. By using the code: BZYVRI300, you can now avail of Php 300.00 off on any order with a minimum amount of Php 2,000.00. This exclusive promo partnered with Boozy is a great deal for your next get-together while staying in your condo.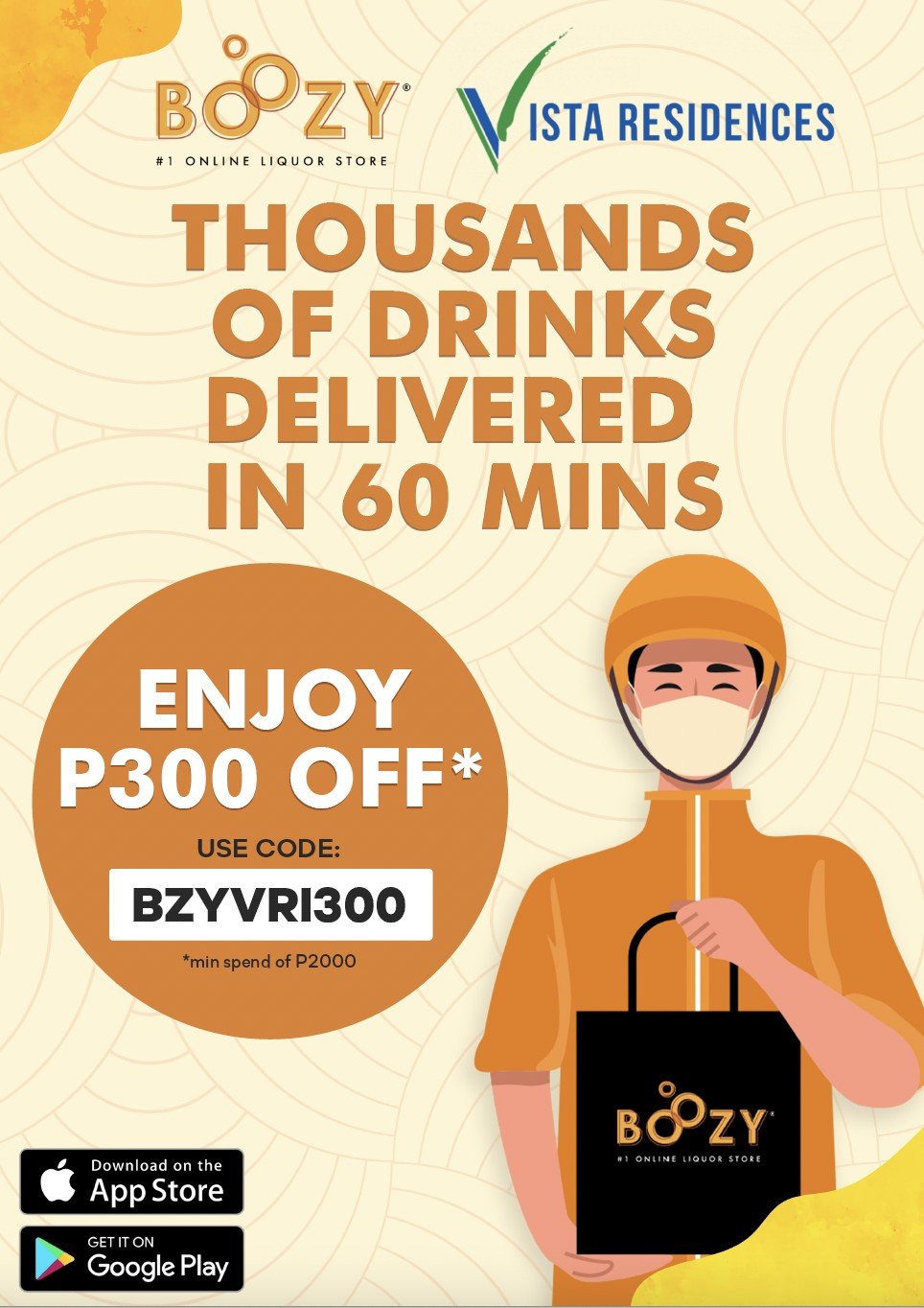 Since Vista Residences condos are equipped with swimming pools and function halls for special events, the only thing missing is the drinks, which is where Boozy comes in. However, if you prefer something a little more intimate, the gorgeous interior units are more than enough to accommodate guests. The spacious units for all studios, one bedroom, and two bedrooms were perfect for hosting.
With their strategic locations all over the key cities of Metro Manila, deliveries from Boozy and all other delivery services will not have you waiting long for your much-awaited packages and parcels. In addition to the Php 300.00 discount on Boozy orders with the promo code, delivery fees will be the least of your worries. Although you can easily get to nearby establishments and entertainment hubs within close vicinity of Vista Residences condos, nothing beats staying in and having your goods delivered personally to your door.
Regarding convenience and ease, Vista Residences and Boozy go hand in hand. Vista Residences has defining factors such as the closeness to business and school hubs, commercial establishments, key institutions, and modern-day conveniences. Vista Residences provides overall security, comfort, and convenience to its owners, investors, and tenants for an affordable lifestyle. In addition, online services for Vista Residences include payments, loan calculations, virtual tours, reservations, and even leasing options. As for Boozy, the easy checkout and payment methods for the wide selection of drinks and liquors make for the most convenient way of purchasing alcoholic beverages.
Together with the luxurious amenities and top-of-the-line units, Vista Residences projects' prime locations establish the company as the dominant condominium developer of the Philippines. With the safety of its residents in mind, the security of Vista Residences towers does not end there. The secure financial growth of its investors is also ensured because of the constant increase in property value.
To make the most of your money, be sure to make use of Vista Residences' promo code: BZYVRI300 for Php 300.00 off on any order with a minimum amount of Php 2,000.00 available for all Vista Residences tenants and employees and their sellers and business partners. Take advantage of this great deal!
For more information on Vista Residences, email [email protected], follow @VistaResidencesOfficial on Facebook, Twitter, Instagram, and YouTube, or call the Marketing Office at 0999 886 4262 / 0917 582 5167.