Thinking of what to do this coming weekend? Then it's just the right time to take a break and enjoy the fresh air outside your condo. If you live in a condo in Makati, you should try visiting the Saturday market Makati. There is nothing more relaxing than strolling through an open-air street market on a sunny day. Street markets are among the most popular tourist destinations in the Philippines because of the large variety of high-quality goods available for purchase and the enjoyment you can have even if you don't buy anything.

Salcedo Saturday Market
One of the most famous Saturday markets in Makati is Salcedo Saturday Market. This has been organized and managed by the Women of Bel-Air Foundation since 2004. From fresh fruits and vegetables to kitchenware and trinkets to ready-to-eat food, the market's numerous booths have plenty to offer. It isn't easy to know where to put your money.
The weekend market is open every Saturday from 7:00 am to 2:00 pm at Jaime C. Velasquez Park, Tordesillas St, Salcedo Village Makati, Philippines. You can find organic fruits and vegetables, seafood, poultry and meats, Filipino delicacies, international cuisine favorites, baked goods and sweets, plants and flowers, and other specialties.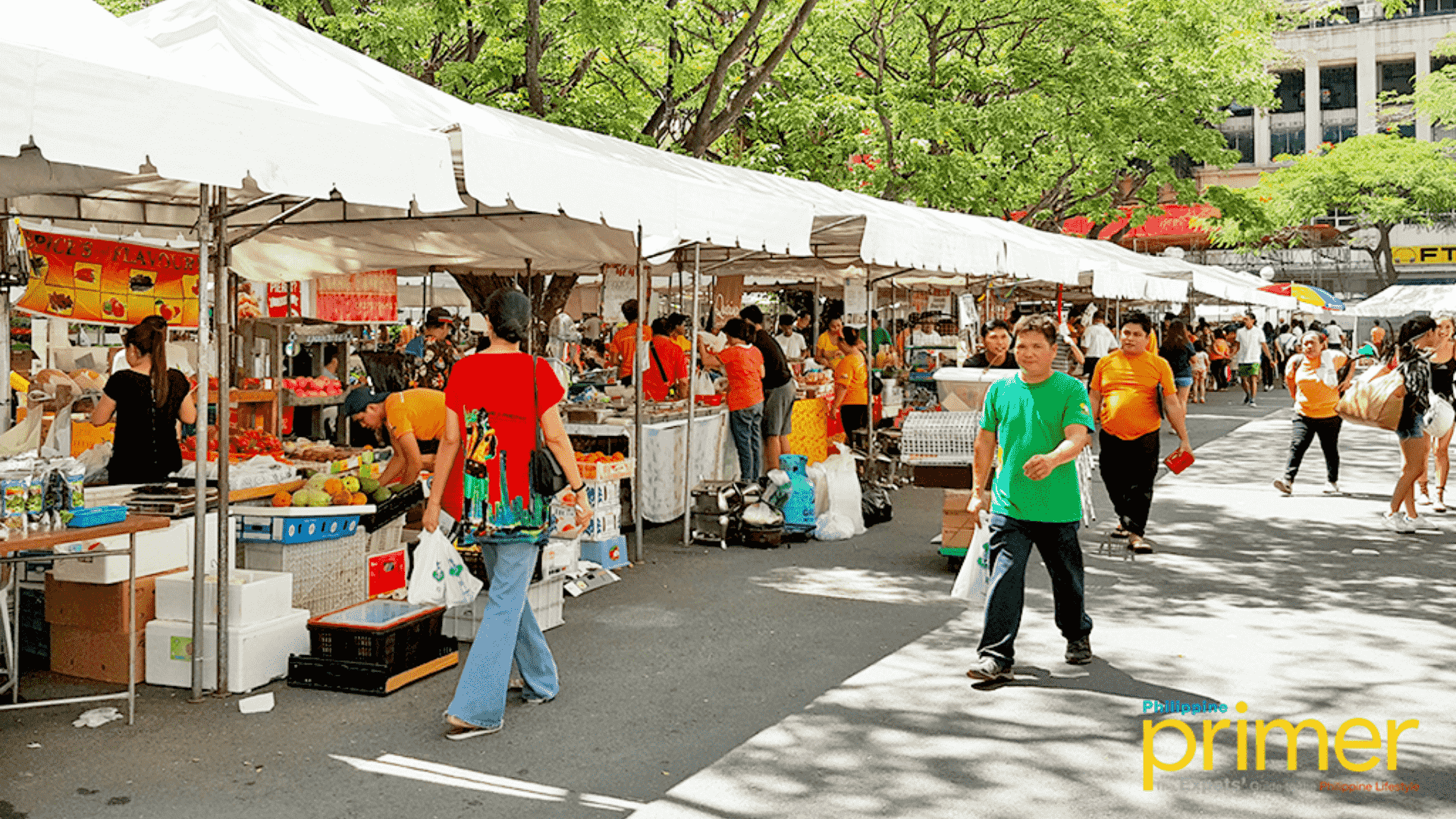 Photo from Philippine Primer
If you are curious about what vendors are available, here is the list of the vendors you should look out for:
Vendors along Tordesillas St.
Adela's Fruit Stand
Bun Appetit
Chang Thai
Cochi Loco Mexicana
Danmar Fruit Stand
DGM Farmers
Everybody's Café
Frutesca
Manong's Bagnet
Mendoza's Vegetables
Nene Boneless Bangus
No Fat No Glory
Old Swiss Inn/Pinkies Farm
Plaza Ilocandia
Rafik's Shawarma
Sabor de España
Something Different
Stephen's Brick Oven Pizza
Wawa Bing's Kitchen
Yan Ching Fresh Lumpia (Kaita Food Corp.)
Vendors along Toledo St.
Authentic House of Curry
Bat's Tilapia
Don Churros
Gean & Joel Seafoods
Gemz Vietnamese Kitchen
Gourmet Farms (Emapol Trading)
Ineng's BBQ
Leo's Organic Chicken
Llanes Farm
Mary Ann & Jun Seafoods
Monster Burger
Namitz Chicken Inasal
Nancy Rannie Seafoods
Nonoy's Seafood Products
Ogie's Ihawan
Rib's Manila
Saffron Plates
Taho
Teriyaki Girl
The Moroccan Lady's Authentic Tagines
Tuna Town
Vic-Key Fruit Stand
VJPA Seafood
Vendors along Leviste St.
Al Halabi Sweet & Savouries
Mrs. R. Veggies
Bakmi Nyonya
Niyog
Bersi Gyros Shawarma
Old Fashion Tapa
Bukit Bintang (Hainanese Chicken)
Pamangan
Sanro & Leo Takoyaki
Casa Daza
Simone & Amelia
Castañas
Sonia Costelo (General Merchandise)
Cheryl's Cuisine
Country Corndog
Sous Vide Station
Dos Jefes
Suki Gyouza
Green Bar
Sunrise Bloom
Hang & Jun (Vietnamese Food)
Viger Trading
Wongton's
In a Nutshell
Jae's Snack / Chicks Rule
Jajan Marketing
Jay Ar's Bibingka
Jiro's Lechon
Ka Narcing (Product of Batangas)
Loida's Mango Manvy
Foods Margarita's Paella
Vendors along Jaime Velasquez Park
2 Moon Bread Café
Alavar Seafoods
Anna's Home Bakery
August Flowers
Bataan Cashew Nut
Bicol's Best
Buko Fresco
Calidad Española
Canico Trading
Chew Chocolate
Cocoro Snacks
Connie's Kitchen
Cydoels Pasalubong
Delicane Delimondo
Down to Earth
El Karne Club
Godel Chocolates
Green Palette
Ivy Sushi
Janwel's Delicacie's
Jaq's Kitchen
Joy's Bakeshop
Joy's Ham
Joyce Dulong Homemade
Kimbee Nuts
La Cuisine
La Reina Meat Products
Lucky Bread Basic
Lyfe Bowls
Mac's Deli
Madge's Crumpets
Masa Bakery
Michelle's Putong Ube
Miyay's Seafood
Parilla's Kakanin
Premium Local
Reno's Bacolod
Rizal Dairy
Robin's Kakanin
Rosel Finest Khalas Dates
Stanford Shaw
Tamales Food
The Citromint Company
The Kitchen
Tita Lea's Black Kutsinta
Tommy's Coffee
Tong's Coffee
Trina Treats
Vannie the Rabbit
Avery's
Boiled Peanuts
Pink Mixer
Take Root
Besides Salcedo Saturday Market Makati, you can also look at Legaspi Village and Sunday Market. It is located at Legazpi Park, V. A. Rufino St 1229 Makati, Philippines, and is open on Sunday from 7:00 am to 2:00 pm. It also offers goods, fruits, vegetables, delicious delicacies, etc.
Are you thinking of moving into a condo? Then you should know that Vista Residences provides top-tier properties which provide their tenants a living community of convenience, comfortability, and security. They both have RFO and pre-selling condos that you can invest in and are available in the different Philippines. One of Vista Residences' best properties is their condos in Makati, nearby establishments and malls.
Makati City is the Philippines' financial capital, and it continues to stand out among Metro Manila cities in terms of location. The city continues to be the country's most progressive business hub, with leading corporations and start-ups, and entrepreneurs taking advantage of the growing number of innovation centers and co-working spaces.
Makati has a diverse range of transportation options. Residents and visitors can take e-jeepneys in and out of the city, the PNR train station, UV Express vans, and buses with routes in and around Makati, as well as the MRT train stations. As a result, Makati has become one of the most sought-after addresses, with more and more people wanting to invest in a Makati condo.
Living in Makati means you will also have access to famous historical landmarks and tourist destinations. Here are some of the places you can visit when you stay:
Parks and Gardens
Ayala Triangle Garden
Poblacion Park
Legazpi Park
Washington Sycip Park
Makati Park and Garden
Churches
Saints Peter and Paul Church
Plaza Cristo Rey
Nuestra Señora de Gracia Church
Ermita de San Nicolas de Tolentino
Museums
Ayala Museum
Yuchengco Museum
Museo ng Makati
Vibrant Art Scene
Community Markets
Legaspi Village Sunday Market
Salcedo Village Saturday Market
One of Vista Residences' condominiums for sale is Salcedo Square Makati; it is a Ready for Occupancy Condo for sale in Makati. Salcedo Square is proud of its LP origins. Salcedo Village's main street, Leviste Street. The residents can get away from the hustle and bustle of work without being too far away. It's littered with cafes and parks that transform into a jogger's paradise and Makati's weekend food-and-flea market on weekends. The units available ranged from studio units to 2-bedroom units with amenities like 24-hour security, Fitness and Wellness Gym, Swimming Pool, and Function Room. You can find the exact address at 106 L.P. Leviste Street, Salcedo, Makati
Besides Salcedo Square Makati, you can check Mosaic Tower, KL Tower, and Laureano Di Trevi.
For more information on Vista Residences, email [email protected], follow @VistaResidencesOfficial on Facebook, Twitter, Instagram, and YouTube, or call the Marketing Office at 0999 886 4262 / 0917 582 5167.