It's hard to believe that we've been stuck inside our homes for almost seven months now. And while this global pandemic might have upended our lives and changed a lot of our routines, there are some habits that will always stay the same.
Like waking up to that first cup of coffee in the morning. There's simply nothing like a few sips of that aromatic magic stuff to wake you up and keep get you motivated to tackle your day head on.
Whether you enjoy a cold brew, a latte, or a double shot of espresso, coffee in any form is truly the best.
Happy International Coffee Day!
Things change, but our love for coffee will always be the same. Today as we celebrate International Coffee Day (ICD), why not head over to Coffee Project, order your favorite brew and get rewarded with a special treat.
This year the International Coffee Organization (ICO) focuses on 'Coffee's Next Generation' as the theme for International Coffee Day 2020. (read more below)
But that is not all! As we continue the countdown to that most wonderful time of the year, and anticipating the joys of the holidays, top condominium developer in the Philippines, Vista Residences, collaborates with the country's most Instagram-worthy coffee shop Coffee Project for an exclusive pre-holiday treat to its condo residents in Manila and Quezon City.
Vista Residences is the condominium development arm of the country's largest homebuilder Vista Land that offers move-in ready and pre-selling condo units.
GREAT COFFEE + CASHBACK
When everyone seems to be doing badly, when things seem to be out of control, Vista Residences want their residents to stay positive (over a cup of coffee). Coffee Project shares the same thrust of sharing positive vibes by extending "P50 Cash Back" as an exclusive pre-holiday treat to Vista Residences condo unit owners and tenants as one way of kicking off the holiday season.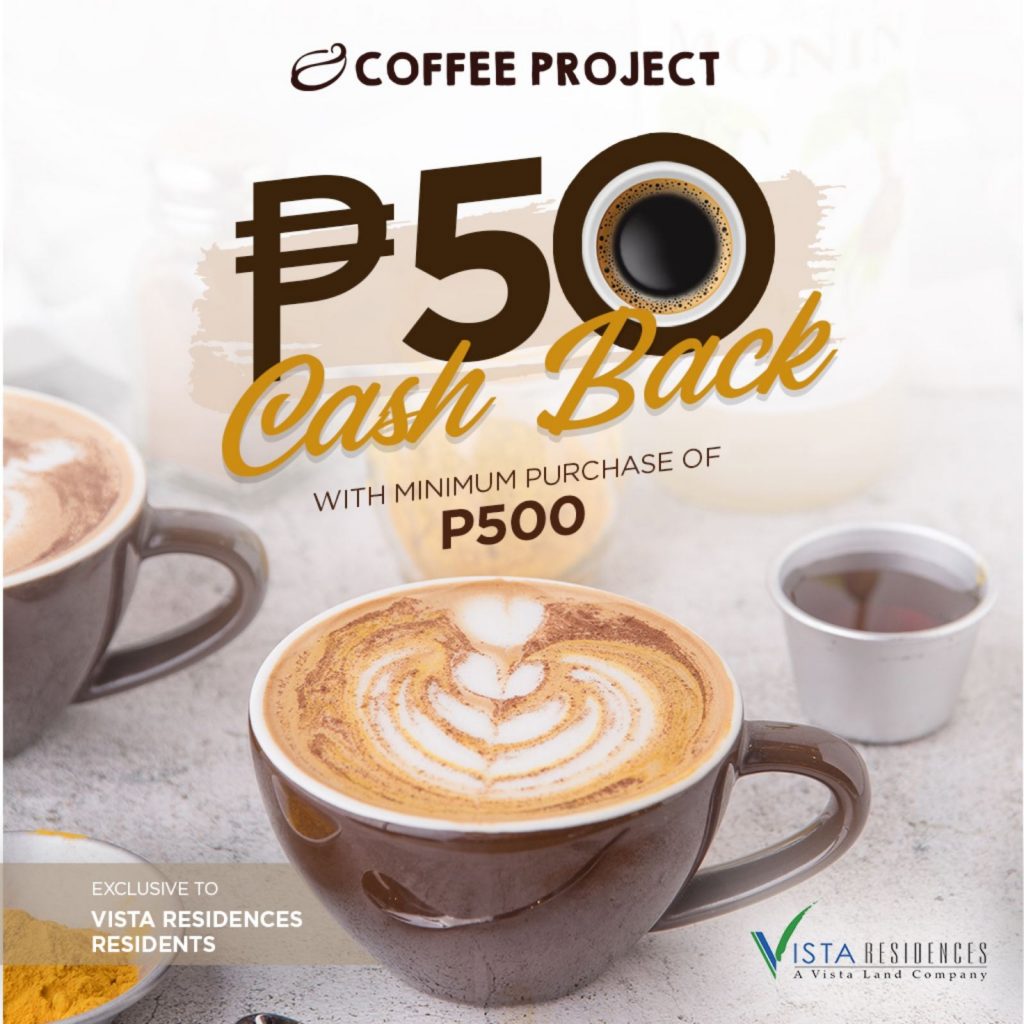 With a minimum P500 single receipt purchase, Vista Residences unit owners and tenants may avail of the P50 Cash Back. Delivery is FREE within Vista Residences while for orders for pick-up, dine-in and take-out, a billing and/or ID with address must be presented to the cashier as proof of residence in Vista Residences. In purchase of goods and services which are on promotional discount, the senior citizen can avail the promotional discount or the discount provided under the Expanded Senior Citizen Act of 2010, whichever is higher.
The P50 Cash Back promo is valid from September 16, 2020 to October 15, 2020 in several of its top-tier properties, Coffee Project in Vista Taft, 878 Espana, The Symphony Towers and Wil Tower. Promo is not valid in conjunction with any other promo or discount.
Aside from the P50 Cash Back promo, Vista Residences and Coffee Project will also share different coffee recipes and barista-approved tips and tricks for making high-quality coffee in the condo.
With convenience, comfortability and accessibility as key priorities for its residents, Vista Residences features a Coffee Project store in all its condominium projects in Manila and Quezon City enabling its residents to collaborate with peers, unwind after a long day's work or simply enjoy a cup of coffee without leaving the comfort of the condominium building.
For more information on Vista Residences move-in ready and pre-selling condo units properties, visit www.vistaresidences.com.ph or follow @vistaresidencesofficial on Facebook.
To order from Coffee Project online, visit www.shop.coffeeproject.com or via Facebook @coffeeprojectofficial.