One of the most pressing issues in the Philippines' construction sector is a chronic housing shortage. Despite the large population in the country, many are enduring life without a proper home, which is very relevant around the areas of Metro Manila.

Labor surpluses and low incomes in the provinces force thousands of Filipinos to migrate to urban areas every year, thinking that these areas offer more opportunities than in the provinces. However, with the lack of affordable housing options, opportunity-seekers find it hard to look for their own spaces in the urban areas, causing them to opt to live in slums. This is the underlying reason why Metro Manila has the most number of informal settlers compared to the other nearby cities in the country.
Roaming around these bustling cities, it is very evident that the number of informal settlers is increasing who opt to build shanties in "danger zones" - along waterways, or under bridges, and powerlines.
Many factors affect each individual that hinders them from getting their own homes. Under this are issues of the land titles, housing prices, and lack of knowledge which impede each Filipinos to have a safe and secured space for themselves and their families.
Securing a safe space got even more challenging as thisglobal pandemic occur. Many lost their jobs and a lot of businesses has closed their operation because of the inevitable challenges brought about by the pandemic in the country. With a lack of financial security, many lose the chance of purchasing their dream homes, and worse, some home renters lose their spaces, causing them to opt to live in the slums. Further compounding the housing woes, congestion inside slums has left the health of millions on a knife's edge
Despite the countless issues pertinent to housing, the Philippine housing industry is optimistic that the housing backlogs will eliminate by the year 2030. With the increasing demand for living spaces, the Philippine housing sector has enormous potential growth through the initiatives of the government and many private sectors, businesses, and institutions.
Continuing its mission in just providing homes for Filipinos but also complementing such homes with creations to make necessities within their reach, the Villar Group through listed property giants, Vista Land & Lifescapes, Inc. and Golden MV Holdings, Inc. will be conducting The ViCon, the Villar Group Convention.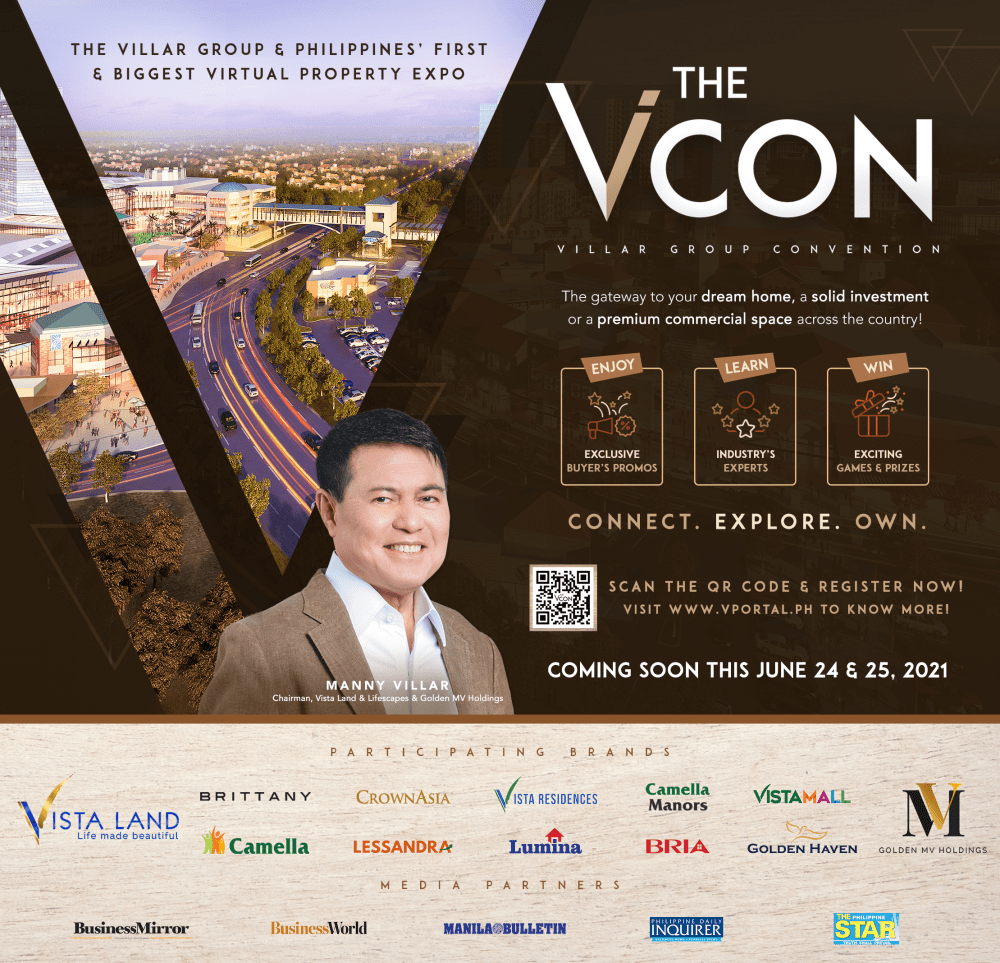 The ViCon is the first and the biggest virtual property expo in the country that will showcase and exhibit the country's biggest real estate brands. Participating brands are Brittany, Crown Asia, Vista Residences, Camella Manors, Vista Mall, Camella, Lessandra, Lumina, Bria, and Golden Haven.
Get to know the brands that will be showcased on The ViCon.
Brittany caters to the high-end market segment in the Mega Manila Area, offering luxury houses in master-planned communities, the price at Php14 million and above. Brittany's first development, the La Residencia de Bacoor was launched in 1993. Among its current projects are Amore, Portofino Courtyards, Portofino South in Daang Hari, Alabang; Crosswinds and Grand Quartier in Tagaytay City; Georgia Club and Augusta in Sta. Rosa, Laguna; L Posada and Marfori Tower in Sucat, Muntinlupa.
Bria primes itself on the development of affordable house and lot packages and easy-on-the-pocket condominium units that caters to ordinary Filipino families who aspire to acquire their own homes. It had become the perfect choice for average Filipino workers who wanted to invest in a home that is both high quality and affordable.
Crown Asia has and continues to develop the country's finest residential properties. It is a subsidiary of Vista Land and Lifescapes, Inc. that creates communities for the nation's upper-middle-income families and individuals. This is largely populated by Filipinos who have endeavored to rise above their not-so-lofty pasts, and are finally able to reap the rewards of their struggles.
Vista Residences is the condominium development arm of Vista Land that develops top-tier leisure condominium properties in the country's most scenic and exquisite locales and offering hotel amenities and services. Its projects are also located in the most accessible and attractive locations in Metro Manila and key tourist destinations, near main transportation hubs and right across premier colleges and universities.
Camella is the largest homebuilder in the Philippine real estate industry. It has created an immense selection of affordable, high-quality Camella homes with world-class settings and exquisitely themed master-planned house and lot communities across the country – each one carrying Vista Land's expertise in space planning, carefully thought out and sustainable architecture, and an innate knack for selecting the most accessible and attractive locations.
Golden Haven Memorial Parks is a subsidiary of Golden MV Holdings, Inc.- one of the largest real estate companies in the Philippines in terms of market capitalization. Golden Haven Memorial Parks offer memorial lots at varying sizes and price points within each of its existing memorial parks and within those memorial parks presently in development. The four basic lot packages are lawn lot; garden niche; family patio; and family estate.
Lessandra continues to make its way to the top as a formidable residential real estate developer in the country. True to its tagline, "Angat Ka Dito Sa Lessandra", every community development guarantees a worry-free and satisfying life: from its quality and affordable house and lot offerings to the prime locations, accessibility of necessities, and available community amenities.
Under the flagship brand of Vista land & Lifescapes, Inc., Camella has elevated its home initiatives into a new form of living which is The Manors. The Manors are vertical villages ideally situated at the heart of Vista Land's communi-cities offering affordable condo in the Philippines and holistic lifestyle to its residents. Our mission at Camella Manors is to provide high-quality and exclusive condominium villages that carry the distinctive beauty and refreshing ambiance of Camella Home developments with pride and authenticity.
Lumina Projects are built in the most accessible locations, close to major thoroughfares, transport hubs, schools, hospitals, and business and leisure centers. Part of master-planned communities, these projects also come with amenities that include community halls, basketball courts, mini gardens and playgrounds, and space for future commercial areas.
Vistamalls, Inc. is the developer and operator of retail malls that target mass-market retail consumers and develops and operates BPO commercial centers. Vistamalls believes that it is well-placed to face the increased competition in the retail mall industry because of its competitive advantage through the following: the location of its existing retail malls (including proximity of a number of its malls beside major transport hubs); a massive existing land bank; its balance sheet strength; its diverse tenant mix with a proven tenant selection criteria and the presence of the key tenants within each of its retail malls.
Join The Vicon on June 24 and 25, and get exclusive access to prime residential properties and commercial properties for lease across the country. You may sign up through www.vportal.ph.
Sign up now and get the chance to fulfill your dream home and investment.