In these trying times, going back to normal might be too impossible. Due to this, many have adjusted to the new normal and adapted to the inevitable changes brought about by the pandemic. One of which is going virtual at events and gatherings. However, despite these, Vista Land remains resilient and adaptive.
Continuing its mission in just providing homes for Filipinos but also complementing such homes with creations to make necessities within their reach, the Villar Group through listed property giants, Vista Land & Lifescapes, Inc. and Golden MV Holdings, Inc. conducts The ViCon, the Villar Group Convention.
The ViCon is the first and the biggest virtual property expo in the country that will showcase and exhibit the country's biggest real estate brands. Participating brands areBrittany, Crown Asia, Vista Residences, Camella Manors, Vista Mall, Camella, Lessandra, Lumina, Bria, and Golden Haven.
In this event, Vista Residences took part and shared knowledge about the real estate of today, which mainly gives emphasis on the infrastructure boost in the country. To discuss more, they invited two great speakers to share their knowledge on real estate – they are Mr. Roy Amado Golez Jr. and Ms. Clarisse Belardo.
Mr. Roy Amado Golez Jr. is the Director of Research and Consultancy of Leechiu Property Consultants. With his topic of Bridging Progress and the Residential Property Sector, he provided information about the roads, rails, and bridges that will be built through the Government's project Build Build Build, and its implication as it influences these infrastructure projects to the real estate industry. Not just that, as he also showed through his presentation the portfolio of Vista Residences around the metro cities where the new infrastructures will also be built.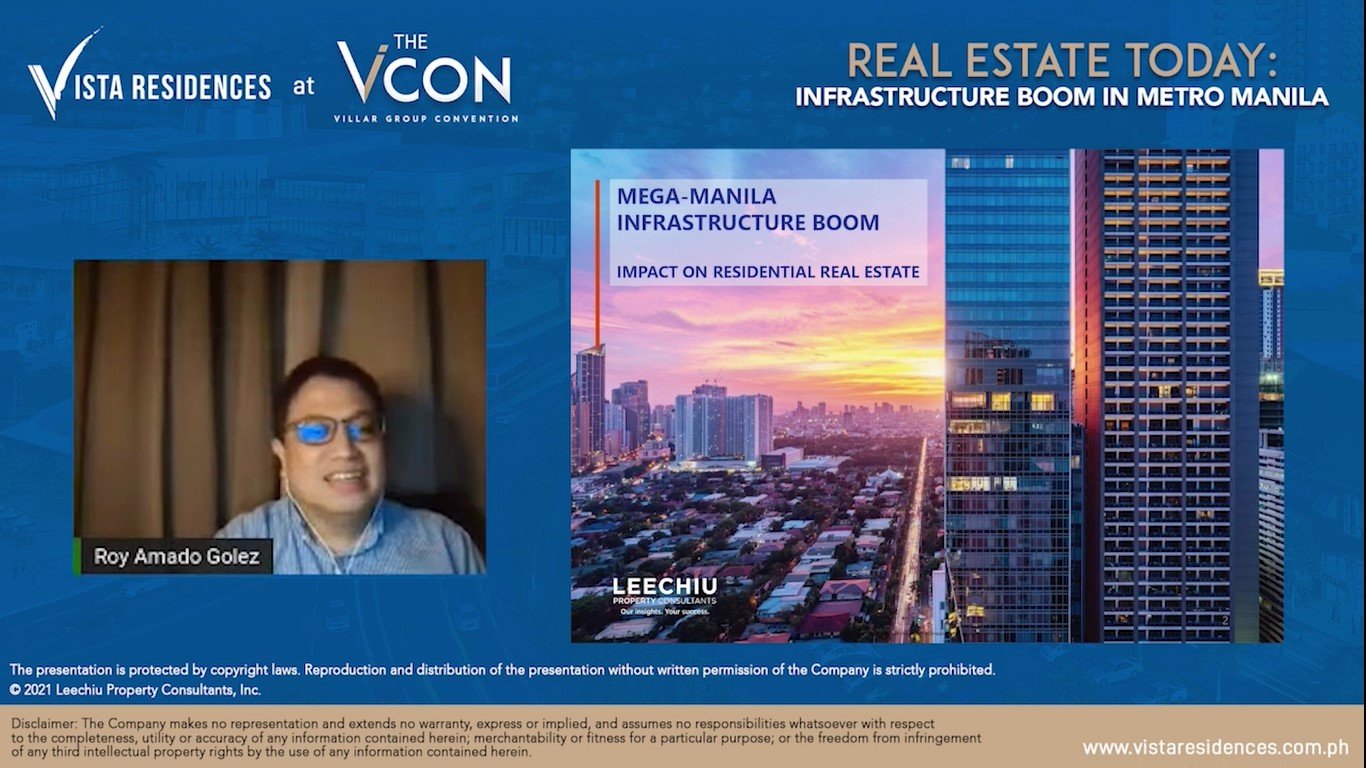 "The portfolio of Vista Residences is very well-positioned in locations near CBDs or near stations, and that they have proven capital growth." Mr. Golez said.
He also gave emphasis on the reasons to invest in Vista Residences even in this time of the pandemic. One of which is the annual capital appreciation of all its projects, which is a factor to consider in real estate investment.
"Based on their performance, based on experience, we can see a stable and steady capital appreciation, and that the locations are in demand." He added.
Another key speaker that Vista Residences has invited is Ms. Clarisse Belardo, the Learning and Development Associate of Lamudi Academy.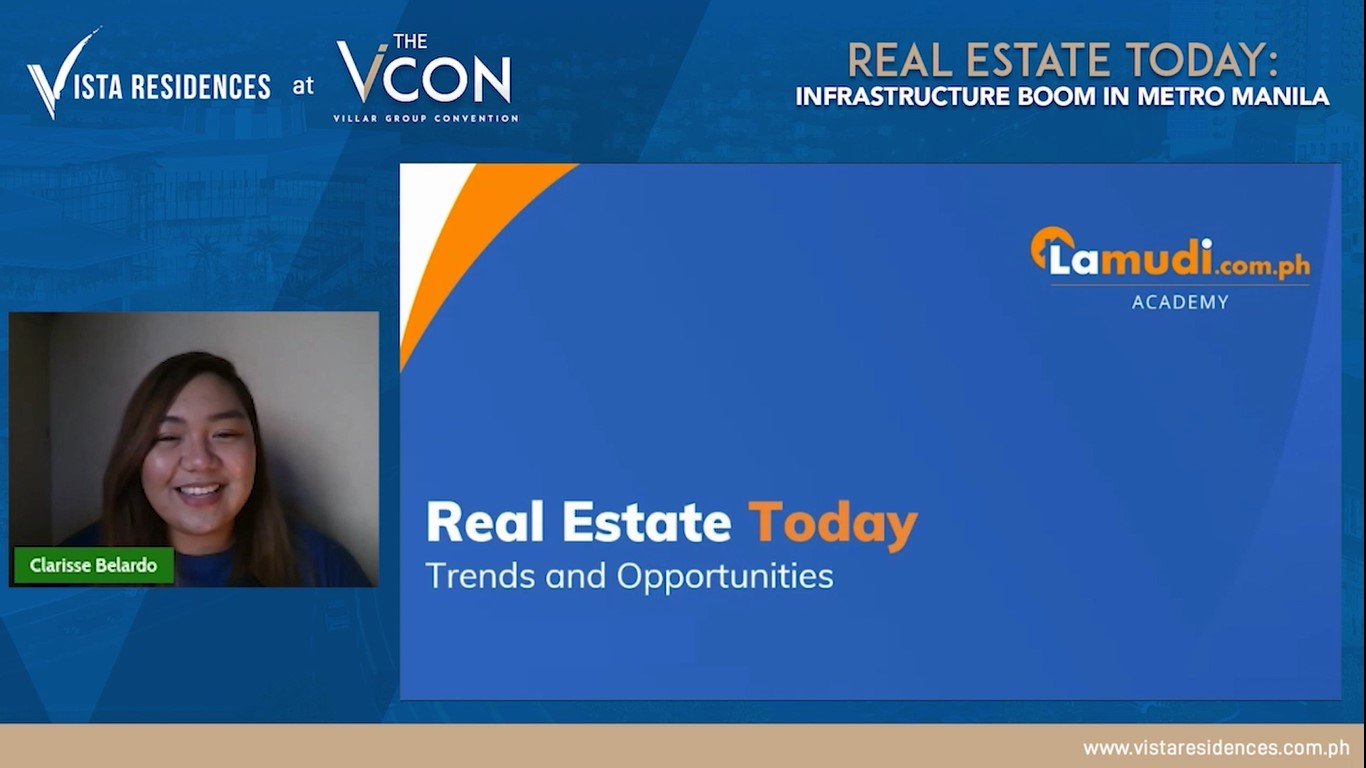 Ms. Belardo talked about the current trends and opportunities in the real estate industry. Also, she imparted knowledge about the importance of going online and its help in the real estate industry, especially in these trying times.
"We were very worried at the beginning of the lockdown, that maybe the real estate market will drop. But currently, we are seeing trends that people or property seekers are still interested in investing for a property." Ms. Belardo said.
Her presentation also tackles the data and demographics of investors of today. Thru the data that she has presented, many real estate enthusiasts and businesses can possibly be aware of their next steps as they pursue the paid aspects of marketing.
"In today's digital world, it is not about finding leads, it is about your leads finding you." Ms. Belardo added during her discussion.
This event has helped Vista Residences to reach more people and to continue its mission in providing quality condo living to the larger scales of Filipinos.
Vista Residences is the condominium development arm of Vista Land & Lifescapes Inc. Since its launch in 2003, it has become a formidable player in the fast-growing vertical development sector of the real estate industry. It continues to address the rising demand for condominium living with over 50 projects across the country's key cities and business districts. It offers ready for occupancy condo properties around the metro cities in the country, and investment-ready homes through its pre selling condo properties. You may choose in its condo in Quezon City, condo in Manila, and condo in Pasig. It is also present in other central business districts in the country such as Makati and Taguig.
At Vista Residences, condo unit owners can take advantage of the property's centrality. The properties of Vista Residences are strategically located near the country'spremium universities and CBDs, making them an attractive investment for both local and foreign investors.
Vista Residences has ready for occupancy condo projects in Manila such as Vista Taft, Vista Heights, Vista GL Taft, 878 Espana, and Crown Tower University Belt. It also has pre selling condo projects in the said area which include Vista Recto, Plumeria Heights, Tennyson Heights, Bradbury Heights, Sky Arts Manila, andKizuna Heights.
Meanwhile, its ready for occupancy projects in Quezon City include Wil Tower, the Symphony Towers, Pine Crest, and Vista 309 Katipunan. It also has pre selling condo projects in the said city such as Hawthorne Heights and Vista Pointe.
Young professionals can also enjoy a one-of-a-kind condo living around the central business districts in the country. It has The Spectrum, a pre selling condo in Pasig; Laureano di Trevi and Salcedo Square, ready for occupancy condo properties in Makati; The Courtyard, a pre selling condo in Taguig; and another ready for occupancy condo in Mandaluyong, the Vista Shaw.
To continue its mission in providing condominium homes for Filipinos and investors, Vista Residences is now offering a premium condo living in the other areas away from Metro Manila. You can experience a warm and relax condo vibe in its condo in Baguio – Pinehill, Canyon Hill, and Brenthill. Now in the south, Vista Residences has Suarez Residences, a pre selling condo in Cebu; and The Loop, a ready for occupancy condo in Cagayan De Oro.
Living in Vista Residences enables you to enjoy convenience, where everything is pretty much within walking distance or a few minutes away from the property; comfort because the project features and amenities are designed to deliver comfort at all times, which makes condo living a worthy investment; security that is 24/7 and CCTV monitoring, which makes the residents safe and secure within the property.
In line with Vista Residences' thrust to offer convenience among its residents, it also features an AllDay Convenience Store and Coffee Project in all its projects.
Vista Residences is part of Vista Land's roster of vertical housing brands that cater to millennials and young professionals. The other vertical brands include Camella Manors, COHO, and Crown Asia.
For more information on Vista Residences, email [email protected], follow @VistaResidencesOfficial on Facebook, Twitter, Instagram, and YouTube, or call the Marketing Office at 0999 886 4262 / 0917 582 5167.