Many people say that living in a condominium can increase the risk of unit owners and tenants getting infected with COVID-19, due to exposure to other residents, visitors, and staff.
While condominium developers along with their property management team implement strict health protocols, exposure to other people is unavoidable especially in common areas and shared amenities. Living in a collection of individual home units, in proximity to other residents is another factor in the transmission of the COVID-19 virus in residential properties like condominiums. These factors significantly present its own set of challenges that affect the battle of condo dwellers against the spread of the virus.
While health officials keep on reminding the public to stay two meters apart to curb the spread of the virus, how does a condo dweller do it in a high-rise condominium building with hundreds of tenants using the same elevator and accessing the same lobby?
The Importance of Property Management
The role and responsibility of the property management team has been emphasized during this quarantine period. Property managers develop COVID-19 policies and guidelines to keep everything in place and communicate the protocols quickly to ensure the health and safety of the residents from the virus. They have to make sure that these set of guidelines are being strictly implemented and followed by everyone in the condo property.
Since residential real estate properties have their own set of health and safety protocols, they have different ways to implement them. Most condo developers do not allow visitors and non-residents to enter the property to avoid crowding, especially that COVID19 cases increase daily. Amenities like gym, swimming pool, and function room have also been closed during the implementation of the quarantine. Residents were also encouraged to limit the time they spend outside their unit and avoid touching surfaces in common areas.
Since the pandemic, property managers' role has shifted from property maintenance and repair to additional sanitation as well as communication to make sure that residents access the right information to protect themselves. It has also been their major responsibility to provide regular advisories on the ECQ guidelines, health and safety reminders, and circulars on COVID-19 positive residents.
Elevator Etiquette
Condo residents all try to do their job of keeping distance not until they get on the elevator where there is little space, with the elevator button considered as a high-touch surface.
Property managers must ensure that high-touch surfaces and frequented areas are regularly disinfected. Condo dwellers should also do their part in mitigating the risk by using a napkin, a key, shirt sleeve or their elbow to push the elevator button instead of using their hands.
Residents should also observe the passenger limit - if the elevator has reached its maximum passenger count, avoid getting in. If you are already in the elevator and people get on, make sure to create a barrier from any droplets that could be in the air. Always wear your mask. It is also best to bring an alcohol or sanitizer with you when you step out of your unit and when you get home, wash your hands immediately and sanitize your phone and other things.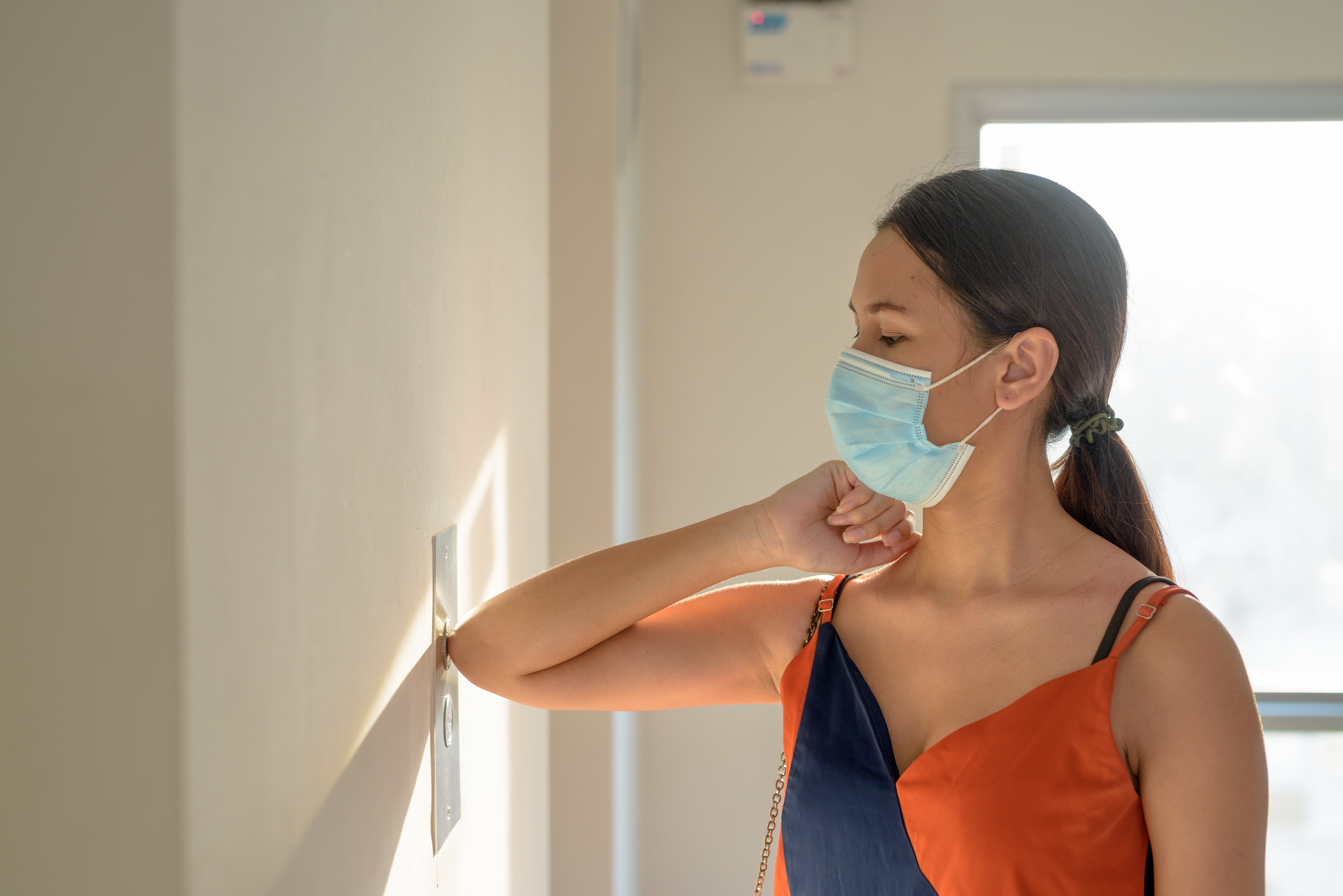 Shared Spaces
It is quite difficult to isolate yourself if you are living in a small and enclosed space like a condominium unit. But according to some medical practitioners, there are some ways to keep yourself safe inside your own condo. These guidelines and reminders include arranging your furniture to observe physical distancing (if you share space with a loved one), washing your hands frequently and taking a bath after going outdoors, having a designated disinfection areafor those coming home, regularly disinfecting surfaces and floors, and posting reminders about bringing mask and face shield if leaving the unit.
Common Areas and Shared Amenities
Condominiums are known for their common areas and shared amenities that can be accessed exclusively by the residents. However, these amenities have been temporarily closed to reduce the risk of contracting the virus. Most, if not all developers have been continuously releasing health and safety household reminders to mitigate the risk.
Condo residents are always being reminded to avoid crowded places, limit leaving the unit for non-essential errands, practice social distancing in elevators, lobbies, and other shared amenities, touch as little surface as possible, practice frequent disinfection of hands, and follow COVID-19 guidelines set by the property management team.
It has been over a year since our country has been put under community quarantine, which made us stay at home and realize the importance of our dwellings. While the government has eased the guidelines and COVID-19 vaccines are now available, observing health and safety measures at home, especially in your condo unit, should be maintained and given utmost importance. We should always do our part in keeping our community COVID-free.
Meanwhile, if you are planning to buy or invest in real estate, now is the best time to do so because of the flexible payment options and big discounts that property developers are extending to homebuyers.
Vista Residences, the condominium arm of the country's largest developer, Vista Land & Lifescapes, Inc. offers ready for occupancy and pre selling condominium projects in Manila and Quezon City that are strategically located within inner-city areas, in close proximity to developed business districts and prestigious universities.
Vista Residences has ready for occupancy condo projects in Manilasuch as Vista Taft, Vista Heights, Vista GL Taft, 878 Espana, and Crown Tower University Belt. It also has pre selling projects in the said area which include Vista Recto, Plumeria Heights, Tennyson Heights, Bradbury Heights, Sky Arts Manila, and Kizuna Heights.
Meanwhile, its ready for occupancy projects in Quezon City include Wil Tower, the Symphony Towers, Pine Crest, and Vista 309 Katipunan. It also has pre selling condo projects in the said city such as Hawthorne Heights and Vista Pointe.
Living in Vista Residences enables you to enjoy convenience, where everything is pretty much within walking distance or a few minutes away from the property; comfort because the project features and amenities are designed to deliver comfort at all times, which makes condo living a worthy investment; security that is 24/7 and CCTV monitoring, which makes the residents safe and secure within the property.
In line with Vista Residences' thrust to offer convenience among its residents, it also features an AllDay Convenience Store and Coffee Project in all its projects.
For more information on Vista Residences, visit www.vistaresidences.com.ph, follow @VistaResidencesOfficial on Facebook, or call the Marketing Office at 0999 886 4262 / 0917 582 5167.