Like most millennials, one of your biggest goals is to live independently as you embark on the new and exciting adventures that adulthood has in store for you. Naturally, living alone also means living in a studio unit, and while the independent condo life is just as fun as it is convenient, one challenge you will surely face when it comes to living in a studio condo is separating your spaces.

Although it does not seem like all that big of a deal, undivided areas in your condo could lead to a less productive lifestyle. With the ongoing COVID-19 pandemic still about, it is no surprise that working from home, taking online classes, and community quarantine are what must be done to stay safe. Despite how tempting it sounds to spend the day in bed while working, it really offers nothing but problems in the long run. Having no physical separation from work life and home life leads to no psychological separation either.
Staying in your studio unit and staying productive without experiencing burnout sounds tough, but here are some ideas you can try to separate your spaces in your studio condo.
Map it out
Some things are easier said than done, and planning out where you will place your "bedroom," "living room," "dining room," and work station inside your studio unit is definitely one of those things. Even though multi-purpose rooms and furniture are always a win, sadly some things were never meant to be together, like your workstation and your bed. Aside from ruining your posture, working in bed would often lead to disrupting your body's natural body clock and wrecking any sense of productivity. To simply put it, divide your rest area from your work area.
Get creative with your condo's layout. Consider your daily routine and the tasks you spend the most time doing. You do not have to limit yourself to four walls. There are plenty of ideas you can easily do to create new rooms in your studio unit!
A little shelf-ish
One of the simplest ways to put up a wall without putting up a wall is to use a shelf. In addition to extra storage for your things, the shelf's main purpose is to provide some privacy and separate your "bedroom" from the rest of your condo. Opting for an open shelving unit allows more light to enter both sides, thus giving your studio a larger illusion.
A hanging solution
If shelves are not exactly your style and you want even more privacy, go for some curtains! They can easily be pushed aside when you want to open up space, just as well as closed to define your rooms and hide the temptation of getting back in bed. This is also one of the cheaper alternatives.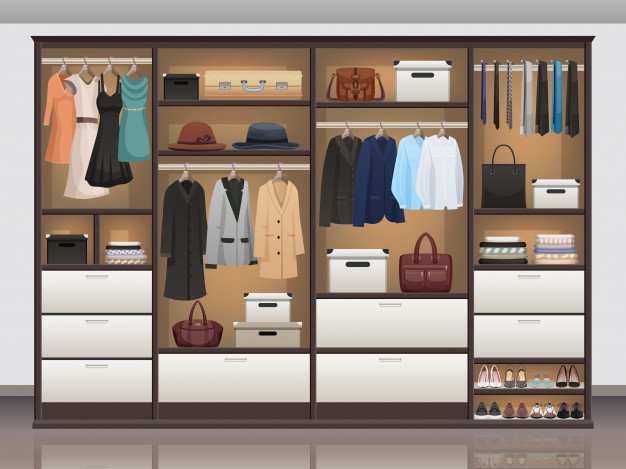 Divider and conquer
If you are one of the many people without the option of working on a desk, then the kitchen table must be your go-to area for productivity. But sometimes your lounge chairs or maybe your bed look a bit too comfortable and suddenly break time is calling your name all over again. A foldable divider is an answer for you! It is the next best thing to a solid wall, but it is even better because you can fold it up and put it away once you are done. There are plenty of ways to decorate and customize your divider and the best part is you can move it around to whichever areas you want to separate.
For the movie buffs
Here is a cool idea for those who work with a lot of graphics or people constantly watching things for work, or anyone who just loves to watch movies. Have a projector screen installed in your studio condo! It works as a great divider and it will definitely upgrade your movie nights. When nothing is being projected, the plain screen will casually make the partition you need for your condo.
Bring it up
Taking inspiration from a combination of bunk beds and loft-style spaces, another unique way to separate your areas in your studio is to invest in a raised bed. Although you do not have to go all out and build your own loft, simply raising your bed on a platform will already separate your bed space from everything else. However, if you do decide to go for a high raised bed, placing your table under it is ideal for productivity, keeping your bed, and the appeal to lay in it, out of sight and out of mind.
Furniture functionality
A classic move that most studio unit residents are well aware of is using furniture to create divisions. Whether it is a couch, a desk, or anything else you already have, placing these items strategically around your condo will help create corners and walls that you can work around with. Not only is this the most affordable idea (since it is completely free), but this is one of the easiest as well.
A customized floor plan
If none of these ideas are going uphill for you, maybe you should try looking down, at rugs. Floor mats or rugs are a great way to separate spaces without putting anything up or taking up any unnecessary space. They create separations on their own on the floor layout of the studio condo, and not only that, but they add a touch of coziness to your area!
Living alone in your studio condo should not mean giving up any of the things that make the quality of your life better. If you are looking for a safe space that's ample for your needs and preferences, Vista Residences got you covered!
Vista Residences is the condominium arm of the country's largest homebuilder, Vista Land & Lifescapes, Inc. that offers ready for occupancy and pre selling condominium projects in Manila and Quezon City, that are strategically located within inner-city areas, in close proximity to premium universities and developed business districts.
One of its offering that is perfect as an example is Vista Recto, a pre selling condo in Manila. With exceptional amenities and high-class features located in the heart of Manila, it is the epitome of your escape from the reality that is the hustle and bustle of the busy city. Vista Recto is just as multi-functional as all the spaces in your condo since it is in the most convenient location at the heart of Manila, while also being the perfect place to unwind and relax at home.
For more information on Vista Residences, email [email protected], follow @VistaResidencesOfficial on Facebook, Twitter, Instagram, and Youtube, or call the Marketing Office at 0999 886 4262 / 0917 582 5167.