Working from home takes a lot of considerations, more specifically when we are doing it for a long period now. Throughout the pandemic, people are now used to stay at home and dealing with our responsibilities that incorporate our own phasing, interests, and amount of motivation. Huge adjustments have been observed during this lockdown and because of the repeated quarantine guidelines, it literally feels forever.

It is definitely difficult to cope with this kind of situation, that is why every one of us is searching for a perfect place where we can peacefully relax, create our own safe space, work productively, and get a perfectly decent spot to maintain our peace of mind. One of the greatest investments that a person can have in today's time is by owning a real and profitable property through a condominium that also offers a perfect space in dealing with your personal matter.
What better way to start having your own space than owning a condo in Manila where you can choose your preferred condo design and interior to help you work efficiently. In this work-from-home setup, your availability and productivity are essential to work with the company collaboratively, so here are some tips to boost your productivity while enjoying condo living.
Consider having a private and decent atmosphere
Allowing yourself to have your workspace is truly an important aspect to consider. It will help you to focus on a strong collective goal despite the pressure and workloads. The relevance of maintaining a positive atmosphere tends to boost your productivity that boils down to a rewarding work experience.
Natural light is vital
Students and employees are currently glued to computers or TV screens and because of that, some harmful effects are revealed because of the artificial lights. Now that most of your time is consumed and spent in various technologies, it is really significant to choose a workplace where natural light is present. It will not only pump up your mood while working, but it will also lift your spirits and gives additional beauty to your space.
Plan ahead of time
Planning will not consume most of your time sitting and thinking about what should be the next step. Pre-arranging your thoughts and preparing ahead of time will create an exceptional outcome, by simply having the time to create decisions suitable for the ideas that you truly deemed. It will also be a great help for you to have the ability to face the possible dilemmas with pure confidence or better yet, avoid them.
Build a routine
Having an organized routinemay lead you to a more sustainable lifestyle even if you are just basically staying at home. Setting small goals will surely help you to manage your thoughts by merely doing it one step at a time. Be consistent, be prepared and of course, make it fun!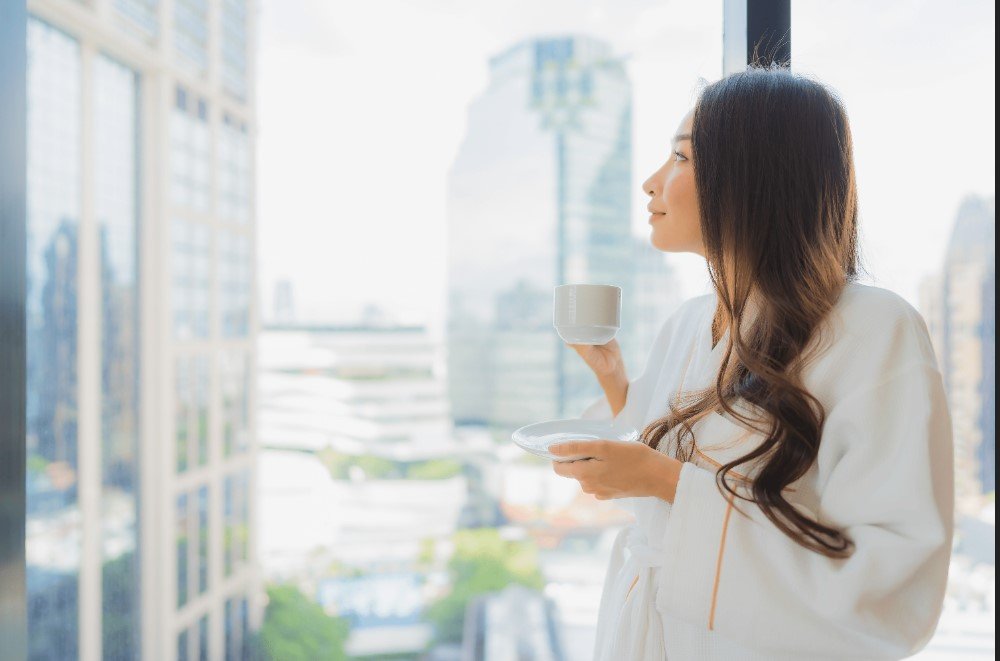 Know when to rest
Suffering from burnout? Listen to your body. In times like these, people are dealing with so many obligations that we deprived ourselves to take a break from them. It is true that when you are so used to doing loads of duties, and then you take a small break from it, there is huge guilt coming from you. However, you should always remind yourself that rest is beneficial for you to work productively. Always remember if you feel tired, exhausted, and weak, that does not mean that you are not good enough. It is totally normal, it is your body telling you that a hardworking person like you should also acknowledge its health and welfare even more.
Celebrate your small wins
After being so stressed with work and being bombarded with your deadlines, it is rewarding to treat yourself and give it a moment to celebrate your small wins. Take a gratitude pause and appreciate your efforts. Reward yourself with some of your favorite foods, drink your go-to beverages, watch your all-time favorite series, movies, or buy new appliances, and many more. Whatever makes you feel renewed and happy, do it. It can fuel encouragement and the drive to keep pushing you forward by becoming more associated with your objectives. Do not always pile pressure upon yourself because really, you have been doing great.
Connect with your loved ones
With all the stay-at-home orders during this quarantine, one way of regaining your motivation is by keeping the lines of communication open with your family and friends. Social connection can help you to regulate your emotions, improve your self-esteem, and can lower your anxiety during this lockdown. Social media has become the lifeline in today's time and age. Many of us discovered creative ways to stay engaged with our loved ones, even with the use of social media platforms. Despite all the workloads, stress, and issues being thrown at you, always cherish all the opportunities to spend time with the people who truly matter the most. Connect with your loved ones to greatly increase the feeling of belongingness and happiness that you genuinely needed.
Choose the right place to stay
What is indeed the real great deal today? No other than having the right place to stay where you are sure and secured. Vista Residences is the condominium arm of Vista Land that offers accessibility, unique features and amenities, quality assurance, a stress-free experience, and a relaxing living experience. Luckily, Vista Residences offers the right breathing space that is picture-perfect for a working person like you. It also offers a Ready for Occupancy Condo that is available and for sale in a lovely and developmental place; Condo in Makati, Condo in Manila, Condo in Quezon City, and Condo in Ortigas. Such a steal! Aren't they?
Working from home has never been easy. Why make it even complicated and muddled?
Having a refreshing urban lifestyle and a distinct living experience is a good take. It is not only beneficial in your workspace by having a harmonized and peaceful environment, but it also serves as a good investment in your future. It only proves that even during the quarantine season, you can live a life that feels like you are on a vacation every single day.
If you are planning to start investing in your own space, Vista Residences got you covered. It offers ready for occupancy condo projects around the bustling city of Metro Manila and other metro cities around the country. You can enjoy a premium and quality condo living in its condo in Manila and condo in Quezon City, which have a complete set of amenities such as a function room, gym, swimming pool, and study hall. These condo properties are truly designed for the ones who are pursuing their dreams in the corporate world and for students who strive for their future.
For more information on Vista Residences, email [email protected], follow @VistaResidencesOfficial on Facebook, Twitter, Instagram, and Youtube, or call the Marketing Office at 0999 886 4262 / 0917 582 5167.